Sunday morning worship is for many the core of our congregational life, a time we share in reverence, love, and contemplation of ultimate things. Sunday Morning Worship is held in the Sanctuary at 10 AM from the Sunday after Labor Day through late June. Through hymns, readings, meditation, prayer, candles of caring, and the sermon, our worship is intended to comfort and stimulate parishioners of diverse traditions and beliefs. The Minister and the Deacons welcome your thoughts on how we may best achieve these purposes.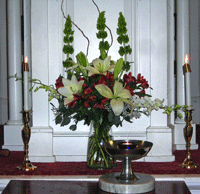 Childrens' Programming:  Sundays 10am and Multi-Generational Services
Fellowship and conversation are offered in the vestry following the morning service.
Lay Services
One Sunday a month, in order to free the Minister from the responsibility of the sermon and service, the service is conducted by a lay person. The Minister and Worship Associates seek volunteers from within the church to conduct the lay services, and turn occasionally to outside sources. We are fortunate to have many members in our congregation who are willing to share their gifts to create thoughtful services. Their topics range widely, and are chosen based on what he or she believes may interest and benefit the church community. If you would like to plan a lay worship service, please submit your topic idea to the Worship Associates.
Guide to Creating Worship at FCU may2023
Inclement Weather
In the event of a storm, power outage, or other emergency, church services and activities may be canceled. Check the following sources before driving to church if you think venturing out may be risky.
Our church phone outgoing message: 978/486-3044
Our website: www.fculittle.org
Boston television stations: WCVB (Channel 5), WHDH (Channel 7), WLVI (Channel 56), and Fox 25 (Channel 25).
Email:  If you are member of the FCU listserve, you will get an email message. If you are not a member, click here to subscribe to the FCU listserve.
Summer Services
FCU takes a summer holiday from regular Sunday morning services during July and August. Instead, we meet in the Vestry to watch a TED Talk followed by discussion. Check out our All Events Calendar under Happenings for more details. The church community remains active over the summer in preparation for our annual ingathering service and country fair in September.