Members, friends and guests can access past sermons online from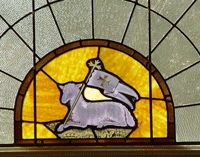 our sermon archive page.
Beckonings...What Calls us Back:Water Communion - Sun Sep 13th, 2015
10:00am Sunday service; Multi-Generational family service
This is a brief homily to go with the Ingathering and Water Communion. It's based on an encounter I had several years ago with an airport ticket and baggage agent who, when he saw the "Reverend" in front of my name on my reservation, decided he needed to talk to a minister right in the middle of the bags he was checking and the boarding passes he was issuing. The way he called me aside as he beckoned me towards him has long stood as a metaphor for me as to how our faith "calls" us in so many, and often unexpected, ways. What calls or invites you back to your religious community as we begin a pivotal two years in your congregational life?
The Call of the Third Place - Sun Sep 20th, 2015
10:00am Sunday service
"Third Place" is a sociological term. The Third Place (with First Place as family and Second Place as career/job/profession) is where one goes for additional dimensions of meaning, purpose, depth, and community in one's life in addition to what is found in the First and Second Places. For many persons their religious community is that Third Place. I'll use this concept to help launch this interim ministry period we'll be spending together. Building on what I briefly introduced in the 9/13 service, we'll explore what it means for a liberal religious congregation such as this one to be your Third Place; and how you want to grow it as you anticipate the next phase of you congregational life.
The Absence of God and the Call of the Sacred - Sun Sep 27th, 2015
10:00am Sunday service
This sermon draws on a book by Dr. Sam Keen titled The Absence of God and the Presence of the Sacred. It's about where one goes when the gods of both the religious and secular realms no longer work. How do we find a sacred or holy dimension to life and living in the absence of a Supreme Being? Dr. Keen speaks well to this. I'll also use this sermon to share some of my own religious and spiritual journey from evangelical Christianity to Unitarian Universalism, and how I've responded to the various callings of the spiritual landscapes I've moved across.
The Twelve Steps: Taking Charge While Letting Go - Sun Oct 4th, 2015
10:00am Sunday service
In the UU congregations I've served I've had some members who have been greatly helped by the Twelve Step recovery process in dealing with a harmful addiction. For others these same 12 Steps are troublesome, as in: "What's up with this 'Higher Power' business?" Using the 12 Steps as an example, I'd like us to examine the intriguing paradox of letting go as a step towards taking control when it comes to meaningfully managing one's life. Do we all have a "Higher Power" - recognized or not - in our lives? Rev. Steve Edington
Guest Speaker: Rev. Rebecca Hinds:Won't You Be My Neighbor? - Sun Oct 11th, 2015
10:00am Sunday service
Rev. Hinds is the Director of Congregational and Volunteer Engagement at the Unitarian Universalist Urban Ministry, which is based in Boston. She was ordained in 2014 after receiving her Master of Divinity from the Andover Newton Theological School. Her B.A. (2006) is in Cultural Studies and Comparative Literature from the University of Minnesota.
Grace - Amazing and Otherwise - Sun Oct 18th, 2015
10:00am Sunday service
One of the more powerful moments of President Obama's Presidency came recently when he sang "Amazing Grace" while delivering the eulogy for the nine African-American congregants who were murdered in their church in Charleston, South Caroline. The story of how Rev. John Newton came to write this song, and how it's meaning has become so wide-ranging across a very broad spectrum of belief is pretty amazing in and of itself. What does it mean for religious liberals to experience grace? Hint: It has something to do with letting go. Rev. Steve Edington
Letting Go and Staying Connected: A Multigenerational Celebration - Sun Oct 25th, 2015
10:00am Sunday service; Multi-Generational family service
When it comes to loved ones we have lost, we find we must let go their earthly/temporal/finite presence in order to stay in touch with the essence of their spirit in our memories. Ceremonies to honor the dead are common to many religions and cultures at this time of year: Samhain, All Hallows Eve (Halloween), or the Day of the Dead to name but a few. Bring a photo or memento of a loved one (human or animal) who has passed for the altar we will create. The children will "Trick or Treat" for UNICEF during coffee hour, so bring cash/change.
How We're Remembered - Sun Nov 1st, 2015
10:00am Sunday service
I'll approach the "Ancestry" theme from the angle of what kind of ancestors we want to be to those who remember us, and whose lives were touched by ours, once we have passed on. I draw on my years of experience in planning memorial services, and how the lives of those who have died are recalled by those who are taking their measure. Having had, by now, hundreds of such conversations I've gained some insight into what is really important in our lives—what is wheat and what is chaff.
The Narrative of Your Life - Sun Nov 8th, 2015
10:00am Sunday service
This continues the Ancestry thread. Consciously or not, we are each and all telling a story with the lives we lead. Just as our lives are shaped, in some measure, by the lives some of our ancestors lived, so too will our narrative shape the lives of those who will come to regard us as their ancestors. I'll share some of the experiences I encountered in working on a personal memoir and spiritual autobiography, as they speak to this topic.
That Would Suffice - Sun Nov 15th, 2015
10:00am Sunday service
This sermon draws on a line by the 14th century German mystic and theologian, Meister Eckhart: "If the only prayer you ever say in your life is 'thank you' that would suffice." Eckhart is one of those persons I regard as a "spiritual ancestor" to UUism, even if he isn't specifically in our tradition. As we move towards the Thanksgiving Holiday I want to offer some thoughts on how we live in a spirit of thankfulness for all of creation whether or not one believes in an intentional Creator.
Multi-generational Thanksgiving Service - Sun Nov 22nd, 2015
10:00am Sunday service; Multi-Generational family service
Multi-generational Thanksgiving Service. Co-led by DSD Vicki Merriam and Rev. Steve Edington
The Influence of Our Ancestors - Sun Nov 29th, 2015
10:00am Sunday service
As we close November's theme of "What does it mean to live a life of Ancestry" we will reflect on the influence ancestors can have on us. During this Lay Led service we will light our First Advent Candle of the season, that of Hope.
Waiting For... - Sun Dec 6th, 2015
10:00am Sunday service
On the theme of "Expectation," I've long been fascinated by Samuel Beckett's theater-of-the-absurd play Waiting for Godot. It features these two strange characters sitting beside a road awaiting the arrival of a mysterious Godot (God?). The point, I think, is that one can waste a lifetime waiting for, or expecting the arrival of, the "Big Whatever" who will make life meaningful and worthwhile. The implied message (again, I think) is that we already have what we need for meaningful living if we will purposefully search for it rather than simply wait for it. I'll work all this around to the Holiday theme of Advent-a Time of Waiting, Anticipation, and Expectation- on this second Sunday of the Advent Season.
Christ Climbed Down - Sun Dec 13th, 2015
10:00am Sunday service
I use the poem-which is the same title as the sermon-by Beat Poet Lawrence Ferlinghetti (now in his mid-90s), which he wrote in the late 1950s, to offer my thoughts on the continuing significance of the legend or myth of the birth of Jesus. The last stanza of the poem frames up where I go with it: "Christ climbed down from his bare tree this year and softly stole away into some anonymous Mary's womb again, where in the darkest of everybody's anonymous soul He awaits again an unimaginable and impossibly Immaculate Re-conception, the very craziest of Second Comings."
Expect Love:Multigenerational Holiday Service - Sun Dec 20th, 2015
10:00am Sunday service; Multi-Generational family service
We gather to celebrate the season with music and story, sharing and contemplation, love and hope. Bring NEW mittens, gloves, socks, hats, scarves, sweaters, and underwear for our Sharing Tree.
The Wonder of Christmas - Thu Dec 24th, 2015 - 5pm
5pm Christmas Eve Service; Multi-Generational family service
Family Service. Join us for carols, lights, and one of the best stories of all to celebrate the birth of Hope in the world. Children and adults will present our pageant, candles will be lit by all, and we'll have a special visitor to finish the service.
Traditional Christmas Eve Candlelight Service - Thu Dec 24th, 2015 - 7pm
7pm Christmas Eve Service
"We Need a Little Christmas." We come together for carols-by the congregation and choir-readings, and a homily by Rev. Steve that draws on the wisdom of Jerry Herman's "Auntie Mame."
Lay Led Service - Sun Dec 27th, 2015
10:00am Sunday service
This service is being organized and presented by the Worship Team. Theme TBA.
Service of Remembrance - Sun Jan 3rd, 2016
10:00am Sunday service
As we start the New Year together, we begin as is our tradition with our Remembrance Service. We will honor the beloveds in our community who have died in the past year, and celebrate those who were born. Service to be led by the Deacons and Rev. Steve.
The Fundamental Things Apply (As Time Goes By) - Sun Jan 10th, 2016
10:00am Sunday service
This is a sermon to greet the New Year. What are the things that endure in our lives from year to year - the "fundamental things" - and what do we need to cast aside, as our lives go by? Joan Baez's song Diamonds and Rust provides the metaphor for these thoughts: What are the diamonds in our lives, i.e. the things that endure; and what is rust, or the things we need to cast away?
Martin Luther King Sunday: My Life as a White Guy - Sun Jan 17th, 2016
10:00am Sunday service
This sermon picks up on the January theme of "resistance" as I look at the life and legacy of Martin Luther King against the backdrop of my own life growing up white in a border state (West Virginia) in the 1950s and 60s. I'll move this around to my thoughts on what it means to show resistance to racism today.
Multi-generational Service: "Try Not to Smile" - Sun Jan 24th, 2016
10:00am Sunday service; Multi-Generational family service
Humor has long been a tool of resistance. We may laugh at something but also be provoked to recognize a truth. Of course some things are just funny in and of themselves. We'll play around with humor in this multigenerational service, so come prepared to smile and bring a favorite (short) joke to share.
Guest Speaker: Laura Wagner - Sun Jan 31st, 2016
10:00am Sunday service
Laura Wagner is the Executive Director of Unitarian Universalist Mass Action. Since 2006 UU Mass Action has had a history of mobilizing the 140 UU congregations in Massachusetts around social justice issues. Ms. Wagner will speak to the work of this organization and how FCU can work with them.
What Must I Do To Be Saved? - Sun Feb 7th, 2016
10:00am Sunday service
I'm doing a slight play on the February theme of "Desire" and calling it "Yearnings." A UU, or liberal religious, take on the idea of salvation means examining the things we most yearn for and how we seek their fulfillment. While the sermon title sounds more like one heard in an evangelical church, my sense is that we all seek some form of salvation, or some fulfillment of our yearnings, in our lives.
Here If You Need Me - Sun Feb 14th, 2016
10:00am Sunday service
The sermon is also the title of a book by Rev. Kate Braestrup. Rev. Braestrup is a UU minister, author, and part-time Chaplain for the Maine Forest Service. It's a very moving book. Rev. Braestrup lost her husband, a Maine State Policeman, in an automobile accident when they were members of the UU Church in Rockland, Maine. She then went on to become a UU minister. In addition to telling her amazing journey of faith and spirit, her book is about the ways in which we reach out to persons in need, in pain, and in their times of loss.
The Religion of the Presidents: A President's Day Reflection - Sun Feb 21st, 2016
10:00am Sunday service
On this day before President's Day I'll offer some insights into the religion of the two Presidents we honor: George Washington and Abraham Lincoln. The broader theme will be the role that religion plays-paradoxically for better and for worse-in our civic life. While our US Constitution forbids the use of a "religious test" to hold public office, we seem to have come up with any number of sub-rosa "religious tests" anyway.
Our Heart's Desires - Sun Feb 28th, 2016
10:00am Sunday service; Multi-Generational family service
Do you remember your childhood desires and wishes? Did any of them come to be? Do you catch yourself daydreaming about what might be? Do you allow the dreams to flow and then act on them? Your heart is talking; are you listening? At this multigenerational service we will dream together.
Guilt Free? - Sun Mar 6th, 2016
10:00am Sunday service
Touching on the March theme of "Liberation," is there such a thing as being "guilt free"? One of the things I often hear from persons new to UUism is, "I like your religion because you don't have all that guilt!" I can appreciate where that's coming from, while still pondering the larger question: Are there certain things-certain behaviors and attitudes-about which we human beings should feel guilty? Is there such a thing as "reality based guilt"; and how do we distinguish it from neurotic guilt? Put another way, how guilt free do we really want or need to be?
Inventing Jesus: With Some Help From Christopher Moore - Sun Mar 13th, 2016
10:00am Sunday service
Over my years in the ministry I've created a tradition for myself that on a Sunday near to Easter I offer a sermon on my take on the life and ministry of Jesus of Nazareth, and the still widely debated meaning of that life and ministry. In this sermon I use one of the most delightful, crazy, and still greatly insightful books on the subject I've come across: Lamb-The Gospel According to Biff, Christ's Childhood Pal by Christopher Moore. Beyond Mr. Moore's account I'll also offer some thoughts on the changing place and image of Jesus in our Unitarian Universalist story.
Stewardship Sunday - Sun Mar 20th, 2016
10:00am Sunday service; Multi-Generational family service
Multi-generational Service. Sermon topic is still being fine tuned.
A Fate Worse Than Death: An Easter Meditation - Sun Mar 27th, 2016
10:00am Sunday service
This Easter Sunday sermon invokes a line by the late Norman Cousins: "The tragedy of life is not death, but what we let die inside us while we live." Touching again on the theme of liberation, we cannot be liberated from the reality of physical death, but there are ways of seeking and finding ways of being liberated from the various deaths-in-life that we encounter in the course of our earthly existence. In seeking such liberation we give heed to the words of the author Gabriel Garcia Marquez when he says of one of his characters: "He allowed himself to be swayed by his conviction that human beings are not born once and for all on the day their mothers gave birth to them, but that life obliges them over and over to give birth to themselves." This is the essence of liberation, I feel: To be able to give birth to oneself over and over again.
What is a Biblical Value? - Sun Apr 3rd, 2016
10:00am Sunday service
With the increasing politicization of our country's evangelical movement, politicians who court the votes of this segment of our population like to speak of bringing "Biblical Values" into our civic and cultural life. This begs the question of just what a "Biblical Value" is. For better and for worse, the Bible is one of the foundational documents of Western culture. It's depictions of God range from that of a petty and punishing tribal deity to that of an all-encompassing God of love, peace, and justice. How can religious liberals relate to this often perplexing document?
The Creation Story of Science - Sun Apr 10th, 2016
10:00am Sunday service
Drawing on the April Soul Matters theme of Creation, this sermon looks at reasons for the persistence of "creationism" or for "intelligent design." At the heart of these movements is, as I see it, the fear of losing a Story or a Narrative that defines who we are as a human species. I'll draw on Michael Dowd's book Thank God for Evolution in developing this topic.
Creation Happens - Sun Apr 17th, 2016
10:00am Sunday service; Multi-Generational family service
At this multigenerational worship service we'll use stories, music, and our own powers of creativity to celebrate Earth Day, honor the ongoing "community of creation", and all that is created.
The Fear Factor - Sun Apr 24th, 2016
10:00am Sunday service
Fear is the most paradoxical of human emotions and phenomena. If our earliest human ancestors had had no capacity for fear-in the sense of knowing how to keep themselves safe from danger-we would not have made it very far along the evolutionary chain. Our sense of fear is an essential survival mechanism. And yet fear is one of the most dangerous and easily manipulated of human feelings. We are witnessing this horribly shadow side of fear in our current Presidential campaign around the issue of immigration. This is hardly new phenomenon; but the exploitation of fear is something we need to be continually vigilant about.
And What of Miracles? - Sun May 1st, 2016
10:00am Sunday service
Is it possible for religious liberals speak in any reasonable way of miracles? Well, if I didn't think so I wouldn't be offering this sermon! To attribute a seeming miracle-like, say, the remission of a cancer-to the workings of a benevolent God ends up raising more troublesome questions than it answers, however joyful the event may be. But are there such things as miracles that occur within the workings of our natural world and universe; and, if so, how do we keep ourselves open to them?
A Myriad of Mothering Experiences - Artemis Singers - Sun May 8th, 2016
10:00am Sunday service
Mother's Day Service Presented by the Artemis Singers. We honor this truth: mothering cannot be represented by any single image, expression, or description. The territory of "The Mother" can be elusive or infuriating, fulfilling or confusing, heart-breaking or triumphant. In today's service, the Artemis Singers will depict through song, that rich complexity of mothering experiences.
That's How the Light Gets In - Sun May 15th, 2016
10:00am Sunday service
The title comes from a line in Leonard Cohen's song Anthem: "Ring the bells that still can ring. Forget your perfect offering. There's a crack in everything. That's how the light gets in." Some of our greatest insights, and some of our greatest opportunities for growth come out of the broken places, or the "cracks" in our lives. The term crack here refers to those "cracks in our consciousness" when we come to see ourselves and our world in new ways. The "light" is the light of new awareness and new understanding. How we attend to the sometimes painful, but still necessary, cracks in our lives is the theme of this sermon.
Multi-gen Religious Education Service and Coming of Age - Sun May 22nd, 2016
10:00am Sunday service; Multi-Generational family service
The Blessings of Memory - Sun May 29th, 2016
10:00am Sunday service
On this Memorial Day Weekend Sunday our service will bring us together to remember and reflect upon how our lives have been blessed by those who have "gone on before us". You are invited to bring a photo or memento of a person or person(s) you are remembering.
Please visit the church office if you would like a copy of past sermons in hardcopy format.