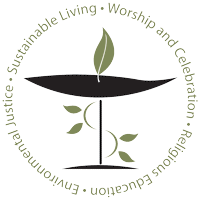 The Unitarian Universalist Association's Green Sanctuary initiative promotes a sustainable lifestyle at church, home, work and in the community. In 2011 First Church Unitarian was granted Green Sanctuary certification from the Unitarian Universalist Association after meeting the standards of the Unitarian Universalist Society's Green Sanctuary Program requirements.
Obtaining Certification
From 2008-2011, based on a congregational survey, the Green Sanctuary task force embarked on 12 environmental projects to obtain certification. The 12 projects fell under the categories of environmental justice, religious education, sustainable living, and worship and celebration. The projects were as follows:
1. Partner with the Building Committee to improve church energy efficiency.
2. Initiate intergenerational drive to collect used household goods for Household Goods Recycling of Massachusetts in Acton. Focus will be on collecting pots and pans, silverware and household linens because these items are rarely donated and in high demand by families transitioning from homelessness or to a new living situation.
3. Host a workshop on Healthy Lawns, without use of toxic chemicals.
4. Host a workshop on non-toxic household cleaners.
5. Promote Local Agriculture through local food consumption and preservation of agriculture/farmland.
6. Partner with Congregational Church of Littleton to grow organic vegetables and donate to Loaves & Fishes Food Pantry and the Neighborhood Supper Program.
7. Promote green jobs through viewing Van Jones Ware Lecture delivered at General Assembly 2008.
8. Senior Youth Group will create a traveling mural on a sustainability theme. The Senior Youth Group will make a contribution towards replacement of light fixtures in the dining room and installing CFLs. RE classes will choose a project for Earth Day 2009. All youths will be invited to participate in the organic garden with Congregational Church of Littleton (#6).
9. Co-sponsor with town of Littleton Reuben Hoar (public) Library (and possibly town of Ayer library) to read and discuss one of Michael Pollen's books (e.g., "Omnivore's Dilemma" or "In Defense of Food.
10. Sustainable Living film, desserts, and discussion Series – partnering with Ayer/Shirley Local in Ayer, to show films to educate, raise awareness and get people thinking, talking and acting differently. The goal is to create momentum for the environmental movement.
11. Winter Solstice service.
12. Earth Day service and Green Journey to Church.
Green Sanctuary Logo
The Green Sanctuary logo shown on this page is credited to Brian Townsend, Westford, MA. Unitarian Universalist Association churches are welcome to use the logo. Click this link for a full size copy of the logo.