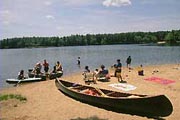 It's August, the weekend before Labor Day, imagine yourself beside a tranquil pond, surrounded by huge pine trees, the smell of a fire burning, and your FCU friends hanging out together, with no agenda except relaxing.   Children are free to play in the creek, run around together in the campground, and collapse exhausted in a tent. Stay overnight or come for the day on Saturday or Sunday at Lake Dennison Recreation Area in Balwinville, Mass., 37 miles from Littleton, a 50-minute drive. This is a fun, informal and relaxing event for adults and children.
The typical "schedule":
Friday evening - arrival and check-in
Saturday        

Annual assault on Mt. Monadnock
Bike excursions
Hang out by the ponds, explore the woods, go boating
Evening - Informal potluck dinners, at your leisure
Night - Sing-a-long by the campfire, dusk. Bring instruments, goodies to share

Sunday morning - Outdoor worship
All activities are optional. Day-trippers are always welcome. The park charges a $5 per vehicle for day use.
For information on the park or to make reservations visit  Lake Dennison State Forest.