Country Fair - Saturday September 9th, 2017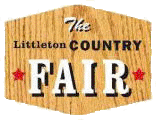 Littleton's Annual Country Fair is Saturday Sept. 9th from 10AM-4PM at Fay Park on Foster Street next to the Littleton Fire Station. The Fair is open to the public and admission is free.
Not only is the Country Fair a great fundraiser for the church operating budget, but it is a great day for the FCU family to share our spirit with the community at large.
The Annual Country Fair has been a fixture in the town of Littleton since the 1800's. The fair was originally organized by the women's groups within the Unitarian Church as a fundraiser for the church and various charitable organizations. In the early days the fair was held on church property. Many of the events were housed in the horse and buggy stalls that were attached to the church. When the church replaced the carriage stalls with a Sunday school wing the fair moved across the street to beautiful Fay Park. Over the years the fair has expanded from the front lawn of the church to encompassing the entire park end to end.
Today, the Country Fair is a fun-packed day for all ages. Special attractions for children include pony rides, puppet shows, face painting, crafter's booths, old-fashioned games and contests, and more. Guests will enjoy our Fair foods, drinks, and desserts and listening to music from the Fay Park gazebo and shopping at the various booths. Traditional tables include the Country Store with homemade jellies, jams and crafts, a huge Trash and Treasure, Used-Books, Used-Jewelry, Penny Candy, a Holistic Center, and more.
Refreshments, including baked goods and luncheon items will be sold during the day. Proceeds benefit First Church Unitarian with a portion of the proceeds to benefit a local charity.
Crafters
Crafterpersons and Artisans.  Please read our
CRAFTPERSONS AND ARTISANS LETTER
Click here for the Fair Poster 2017
Click here for 2016 Fair Information
Ckick here for FCU Facebook
Questions?
If you have questions or need other information about the fair, contact Chair of the Fair at gro.e1496084736lttil1496084736ucf@r1496084736iaf1496084736.